Reach and Wash Cleaning

How does the reach and wash cleaning system work?
Glass and carbon fibre waterfed poles telescope upto a height of 50ft and deliver pure water to the window via a double trim brush. The Reach and Wash window cleaning system we offer provides, we believe, considerable benefits over traditional window cleaners methods. These include superior window cleaning results, windows stay cleaner for longer, windows are within reach for cleaning and conservatory roofs and atriums can be cleaned safely and properly.
Better cleaning results - Cleaner Windows!

Pure water possesses a strong urge to return to it's former impure state, absorbing dirt left behind by the elements. 100% pure water made by the system produces cleaning results that are second to none, giving a spotless, streak free finish. Note also that the "Reach and Wash" system offered by Xterior Cleans is suitable not only for glass, but also for use with all UPVC fascias/soffits and cladding. This, together with your freshly cleaned glass, guarantees the perfect finish for your property's appearance.
When you hire a window cleaner, you probably want more than just clean windows. You want a timely, reliable service from someone who cares about the service they provide. With Xterior Cleaning Services, that's precisely what you'll get. Contact us today for a free quotation and prompt on-site visit to clarify the estimate.
The Reach & Wash system cleans with greater efficiency than conventional methods.
Reaches previously inaccessible windows with ease.
Cleans frames at the same time as glass.
Operators work from the safety of the ground.
Eliminates the need for ladders and therefore leaves no building damage.
Can clean any window up to a height of 50 feet - that's 5 stories!
Reduced disturbance and increased privacy.
Environmentally friendly, no detergents or chemicals are used.
Conservatory Roofs
It's not always easy for house holders to clean their conservatory roofs and hard to reach areas. Let Angel Window Cleaners solve your conservatory problems. By using specialist tools and chemicals we can provide a clean to bring back that new look again and make your conservatory shine and sparkle. We will restore your dirty and faded roof back to it's "just fitted" finish. We can also clean and restore your conservatory guttering and window frames. We are also able to reach those windows above your conservatory area.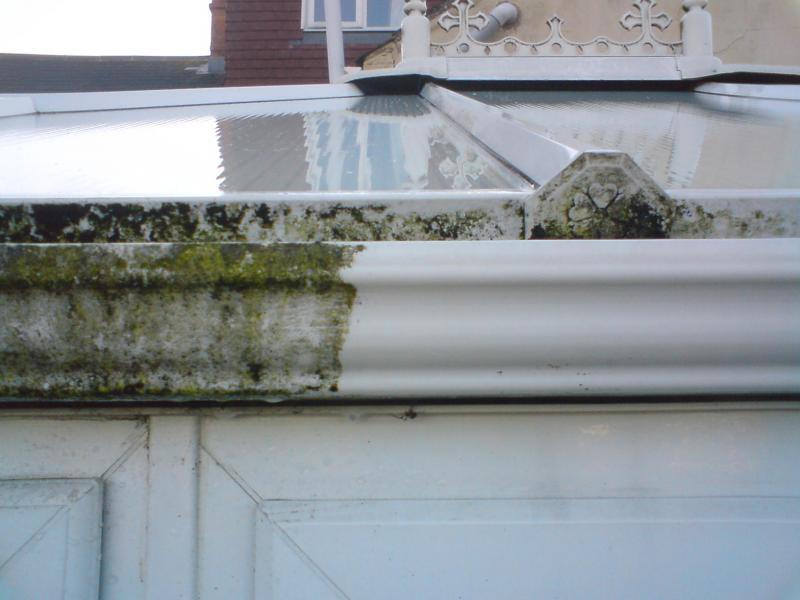 Tweet